The work of the Hill 112 Memorial Foundation is a tribute to the untiring work of Albert Figg, a Sergeant Gunner with the 112th Field Regiment during the Normandy Campaign.

Albert was determined to establish an appropriate memorial to the more than 10,000 men from both sides who lost their lives on Hill 112, a cause he supported tirelessly for the rest of his life. He was still the driving force behind the campaign when he died in July 2017, just days before HRH The Earl of Wessex KG GCVO unveiled the statue of the infantryman at the site.
Albert was instrumental in collecting filmed interviews with some of the men who had lived through the horrors of Hill 112, and it was he who persuaded award-winning filmmaker Peter Williams to agree to bring the interviews together into an educational film, a promise Peter is determined to honour.
'Remember and Act for Peace – remember those who died during the Second World War. It was those who gave their lives for the freedom we all have today and watch out for those who want to take it away from us.'
Born on 12 June 1920 in Chiseldon, Wiltshire, Albert was the last of 11 children born to Thomas and Minnie Diana Figg. He left school at 14, went to war in 1939 and married Anne in 1942. The couple had four children.

Albert's wartime experiences had a profound effect on him and left him determined that the carnage he had seen around him in the series of battles for Hill 112, described as 'the Verdun of World War Two', would not be forgotten.

Sergeant Gunner Figg's Division landed on Gold Beach, Normandy on 24 June 1944 and was part of the breakout divisions consisting of the 11th Armoured, 15th Scottish, 43rd Wessex, 53rd Welsh, 49th West Riding (Polar Bears) 50th Northumbrian Division and C Squadron 23rd Hussars (tanks).
A total of approximately 65,000 men were involved in two successive attempts to take Hill 112. Operation Epsom lasted five days and Operation Jupiter began on 10 July and concluded with victory on 23 August 1944.
The battles were costly. The 43rd Wessex alone lost 2,000 men in the first 48 hours and saw 5,000 wounded in Operation Jupiter. Albert himself felt that he was "lucky", since his role in the field artillery meant he was in comparative safety, three-and-a-half miles behind the front line.

After the war, his thoughts turned to colleagues who had not been so "lucky". While there were many memorials all over France, Albert felt the bloody battle of Hill 112 had been forgotten and was determined to put that right. Between 1998 and 2000, he raised the funds to buy a WWII Churchill Tank and install it on the hill to commemorate all the tank crews who died.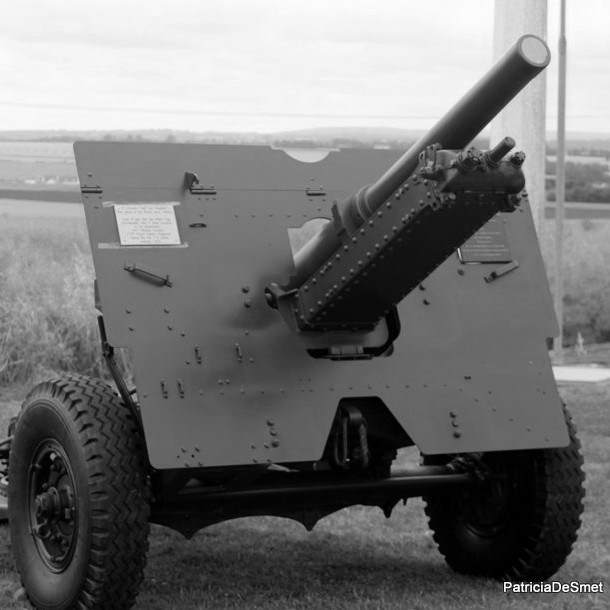 25lb Field Gun, similar to that commanded by Albert, positioned on Hill 112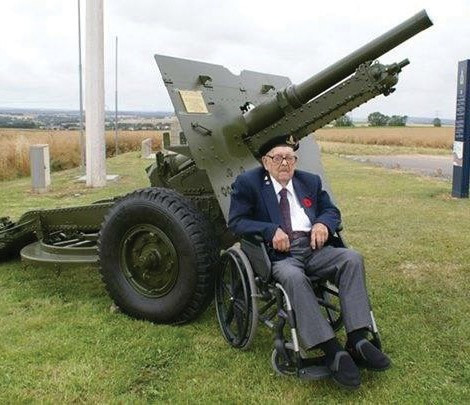 130 Field Ambulance A Or B Company 43rd Wessex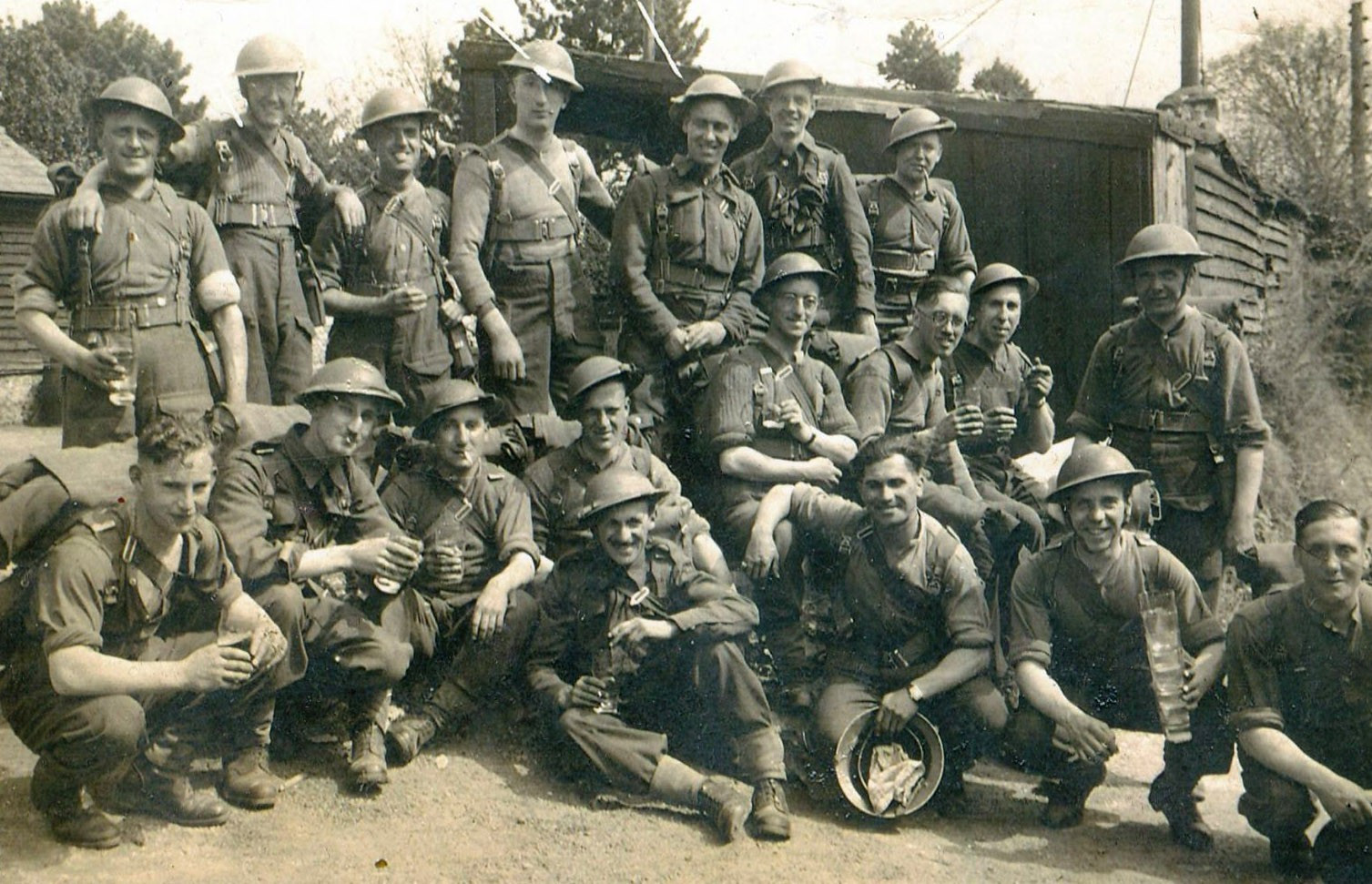 More tributes followed over the years, including a statue of an infantryman, a 25-pounder field gun and 112 trees, planted in the shape of a Maltese Cross. Sadly Albert died just a few days before the Earl of Wessex's most recent visit, on 10 July, 2017, to unveil the statue of the infantryman, now at the centre of the tree cross. Prince Edward also unveiled a plaque naming the site Albert Figg's Hill of Peace.

On 5 July, 2014, this man from humble beginnings was awarded the Chevalier de la Legion d'Honneur, the highest decoration France can bestow on an individual. The ceremony took place in Caen, the city Albert Figg helped the Allies take back from Nazi forces in 1944.

Though Albert Figg lived in Canterbury, in Kent, the appeal of this unique story resonates throughout the UK. Albert was part of the 43rd Wessex Division and fought side-by-side with men from Cornwall, Wales, Scotland, Somerset and many other counties.

The Hill 112 Memorial Foundation is committed to completing the mission to which Albert Figg dedicated so much of his life. He asked nothing for himself. His only wish was that there would be a permanent and shared memorial to the fallen of Hill 112. Albert died on Monday 3 July 2017 aged 97,

For much more information on Albert, his life, his military career and his determination to see a permanent memorial to his colleagues created on Hill 112 see www.albertfigg.co.uk
WWII Churchill Tank at The Hill 112 Memorial Site.
Chevalier de la Legion d'Honneur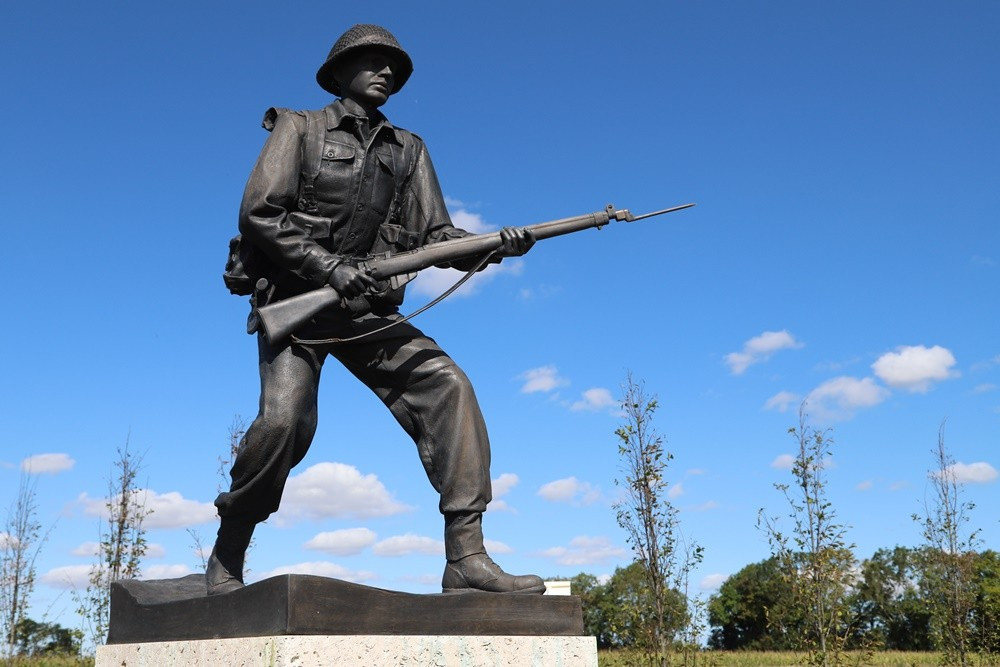 A statue of an infantryman, donated by Michael Whitely.
Albert's determination to honour his former colleagues